I just received my mbed module. This little ARM device is pretty cool, and the associated tools works quite nice. Of course they cost a lot of money, I received mine for free for the mbed contest. Really kool no ? ;)
After the classic blink test, I decided to go for a network test. But I don't have any magnetic Ethernet module right now (In fact, I should have one, but I'm unable to find it). So let's go for a magnetic less ! The doc on the mbed dedicated page say that should be fine. I decided to pull the RJ45 socket from an old broken WRT54.
The main issue is to figure out how to solder this RJ45 on a veroboard. Here comes the fun part, I remembered that radio-amateur use a technique called "dead bug soldering". Check this guidelines from the NASA for examples.
I decided to give it a try :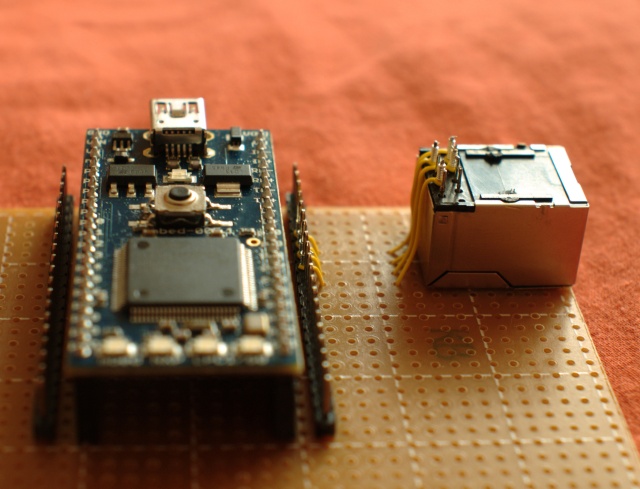 Just glue the RJ45 on the veroboard and use a common wrapping technique : Not so bad ;)
The next step is to flash a network example to test.
That's really fun, the mbed works pretty well. I secretly hopes that somebody will come with a mbed like with opensource hardware and software.
Enjoy wired networks ;)
Related Posts