Eltax Symphony loudspeakers are some really cheap one. It cost around 120 Euros here in France. I was looking for a review for this speakers for a long time. How can Eltax sell speakers for this low price.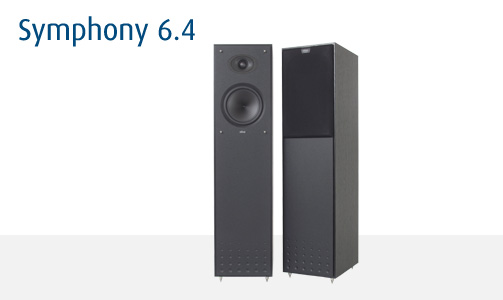 A month ago, I discover that my old Elipson speakers are quite dead.. too old to rock !! ;) So beside I decided to repair them, I need to buy something else during this period (period that could be long, cause I need to find somebody to fix them)
After long googling, I decided to give the Eltax a try. So brought a pair on the web. In fact, I haven't found anything really interesting on the net about Eltax products, so this is the first real review of Symphonie 6.4 loudspeaker. (Please if you find this one useful, links to this article, in the hope someone else find it)
This is quite important no ? Ok this stuffs are pretty nice floorstanding 2 ways speakers. Eltax has done some serious work here. They seems to be robust, and good quality. This is the first thing that I wasn't looking for. Cheap speakers != bad products..
The low-middle boomer look a bit too small for me, but ..
First, don't forget I usually use some Elipson, or high end Denon speakers, not this kind of cheap stuffs :) But let's start. I wired the Eltax on a 2* 80w (big boy) Denon amp, and press the play button. The first impression is really strange. The middle and high are crystal clear. Astomishing !
The highs are a bit to bright for my ears, but this is not a really big issue, because I can fix that with the treble setting. But the middle are really clear, you can listen every small sound and believe me I haven't heard this kind of middle on a lot of sets.
While playing, I tested several style of music, and discover that's despite this speakers are really a good discovery, I 'm missing something. I searched over several CDs, and yes, I found it. Despite the bass are quite fine on this speakers, something is missing: low-mids. I mean, the middle and the bass are really effective, but the low-middle aren't there. Of course, the problem seems to come from the small boomer, but as the bass-reflex do a good job bass are deep so not really easy to discover at the first listening.
This loudspeakers can play with you, because you when you power them, they give you what you're looking for: good mids, good highs and deep bass. But after long a listening you will find them a bit strange ..
Even worst, when you try to listen some songs with a lot of different harmonics (Muse is the worst stuff I has on my hand for this time, but it's a good challenger. Vocals are high, noisy guitars, and lot of bass), the speakers is really in a bad condition. I mean, the speaker doesn't achieve to play it. Instead of music, you get some noisy background, a mixed bass, and bright vocals, and it sound really bad.
I read a lot of good comments on the Eltax Monitor III, and right now I know why. I'm quite sure they deliver the same clear middle, and great vocals. This is perfect for a home-cinema setup, but not for Hifi. I'm quite sure, I will buy a Eltax center channel for my next setup, because this is exactly what everybody is looking for.
My first goal with this speakers was to use them for the back channel in home theater setup, and they are really good enough for that. If you want to buy this speakers for a HT setup, let's do it, it will give some really good results.
I discover that one of my speakers has an issue on low bass (50Hz/60Hz) and low volume, I can ear some scracth. This doesn't affect sound-stage at normal level (very weird) so I decided to send them back.
So guess what, you should read another Cheap Hifi speaker review soon ;)
Related Posts