For my next project (another VFD clock ;), I need a small variable PSU. The main issue with the VFD display, is the power supply. In fact you need 2 differents PSU:
a 5v / 100mA for the filament
a variable 20 to 75v for anodes..
VFD tube like the IV18 need something like 20/30 volts in direct drive and 50/70 volts where they are muxed. As I can not use them in a direct drive, I need a psu that support output from 20 to 75v, by this way, I can dim the display easily and test the whole stuff in a direct.
I already have done several nixie PSU, but this time I want to build something small (doesn't cost a lot) with really common parts. I decided to look at smaller mosfet, and I found the BS107 .. small TO92 package and 200v ;)
Here the schematic: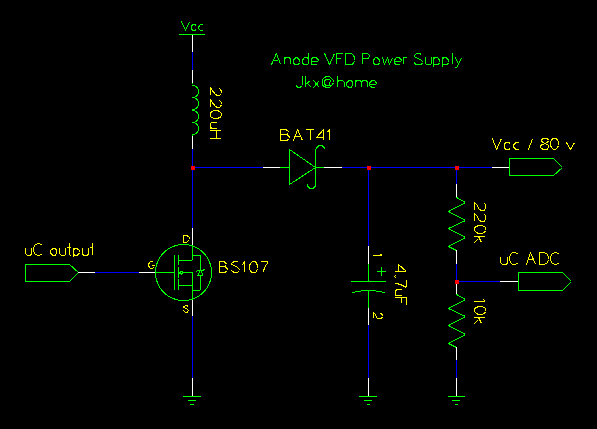 With this simple stuff, and a little microcontroler, you can step the output easily. You can use a 220uH inductor with a 5v VCC, or a smaller one 100uH if you have a PSU between 6v to 15v.
/Enjoy the next step
Related Posts