After my nixie clock, I decided to build a new one based on a old VFD vacuum tube. In fact, the brother of a friend (which live in Ukrainia) give me a bag of tubes. Beside I already have a little set of this kind, I discover the IV-18. This one, is really big, and perfect for a clock.
Here a little pic of this big guy: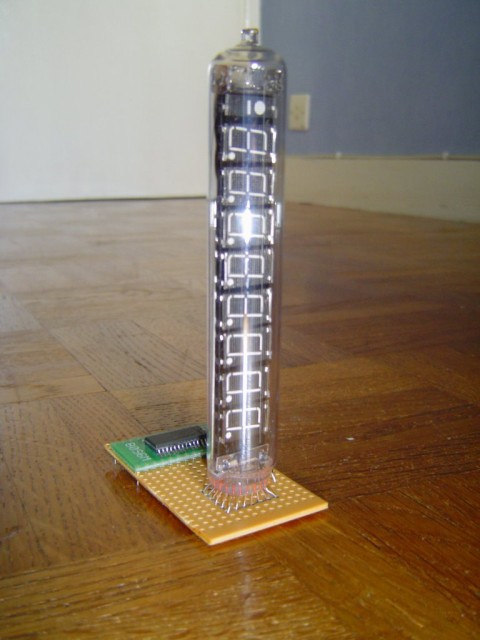 As you can see this is quite large, and really nice looking. I spent a little time to figure out, how to make it working (reading russian isn't really easy). After sending a mail to the NeonNixie group, Chris help me to fix my issue.
So here the IV-18 pinouts:

And the values:
power supply for a digit : 20v-30v (if not muxed)
power supply in muxed (for the 9 digit): 50v-70v
the filament: 4.3v-5v at 100mA
The first step was to build the PSU
I want to build a small clock which feet in a small box without the use of a wallmart (external) transformer. So I went to my junk box, and found a small 2x6v – 350mA transformer. Hum, after a little test, I found that using this with a voltage doubler, I can get around 40v. Beside I should use 50v in muxed, I discover that 40v is far enought, and It will save the VFD life. (even if this kind of VFD should live at least 10 years without issue)
That fine.. but I need some 5v too. My first thought was to simply plug a 7805 in the middle of the voltage doubler… That works fine, except the 7805 is really hot, and need a large heatsink. So I decided to use a switching PSU based on a LM2575.
Here the final power supply. (as you can see, I added a diode the filament PSU to avoid it to glow too much)

Here's a pic: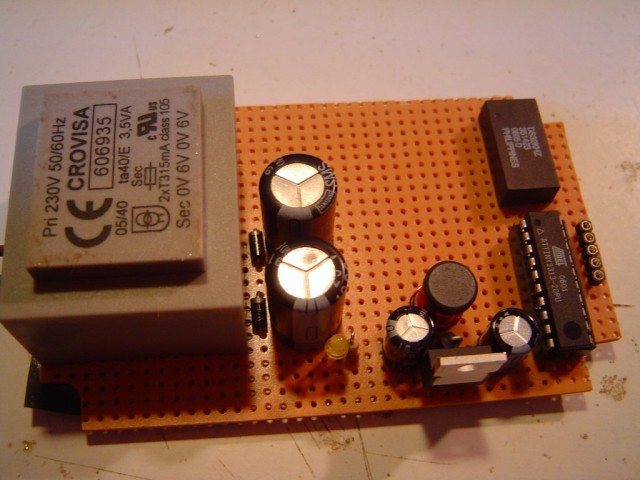 You can see
the transformer
the two caps and diodes from the doubler
the LM2575 and its parts
the ATtiny2313 (micro-controller used to do the logic)
the DS32kHz (32.768kHz Temperature-Compensated Crystal Oscillator)
and the little plug I used to do the in-circuit programming.
Check out the next article for the finished product :)
Related Posts