This is perhaps one of my best homemade antenna.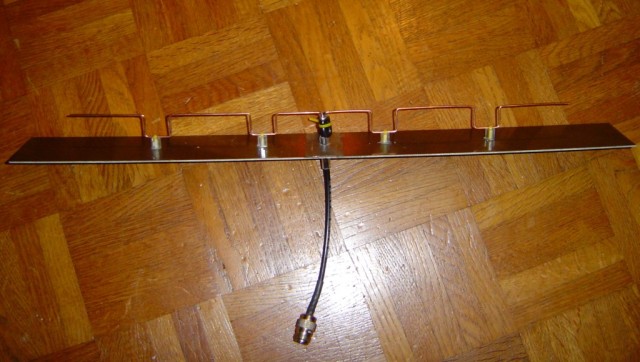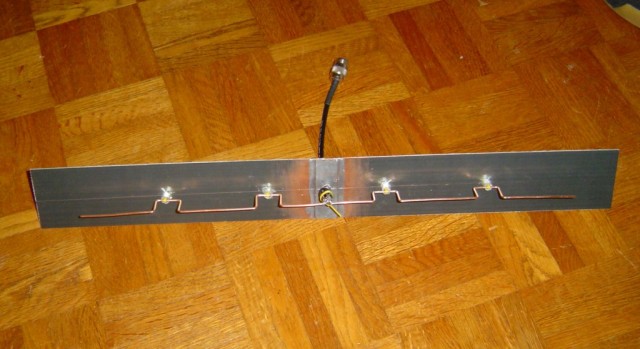 I found the original design here: http://yu1aw.ba-karlsruhe.de/Amos.pdf
You can find my construction guide on Brest Wireless website at
http://www.brest-wireless.net/wiki/materiel:amos
First:
Take care of this antenna, I broke the first balun while testing :(
and the balun is the hardest part to do
Tests :
13db of gain
and a really big beam 120° !
the "hot spot" of this antenna is in the middle instead what we usually see in
omnidirectionnal. So the best height for this antenna is the same as computer.
And this is a good news.
I usually use a biquad antenna inside my appartement, because my AP is in one corner. Biquad (or patch) offer a performance boost compare to a omnidirectionnal antenna (tested with a 8db doradus). This is mainly due to the reflections with the walls of the room inducted by the omni.
But I need to say that AMOS antenna beat all antennas I tested before in this indoor conditions. It has a larger beam (120°) and a strong front / rear insolation.
The AMOS antenna offer the best parts of the pach / quad and omnidirectionnal antennas for indoor. But take care that vertical angle is not really large so it will perhaps not work for a entire flat :).
Related Posts