Last week I decided to build a map of the wireless access point in the Town. It is not really easy to find the right tools, so I decided to write this little Howto.
To archive this goal you need severals tools:
First install Kismet. You need a wireless card that support RFMon in monitor mode. I think Madwifi cards, and patched Orinoco are the only ones that support this.
Launch Kismet, and now check for a given AP that kismet know the best level..
If everything is ok, edit the kismet config file and set gps=try
Download and install the latest CVS version of GPSDrive (I have some issues with the latest tgz and kismet). The next step is to have a GPS working with gpsd. Most GPS will work, I bought a cheap one with a USB cord on ebay.
Simply launch gpsd, and after gpsdrive. You should see the reception level in GPSDrive.
To use Kismet + GPSDrive, you need to have a MySQL database. In fact GPSDrive will ask to kismet the new APs, and dump this informations in a MySQL db. You can find the create.sql in GPSDrive sources.
mysql -u root -p < ./create.sql
This will add a user : gast / gast
Ok, now launch GPSDrive and set the 'use SQL' (or edit the config file), and quit.
Now to start the whole stuff:
Plug the wireless antenna (this is better for wardriving ;)
Plug the GPS
Launch gpsd (be carefull to have enought satellite in view)
Launch Kismet (it should tell you, it find the GPS…)
Launch GPSDrive (it should display a little kismet logo on bottom)
Now, you're ready to go, walk down the street you should see new APs on the GPSDrive map.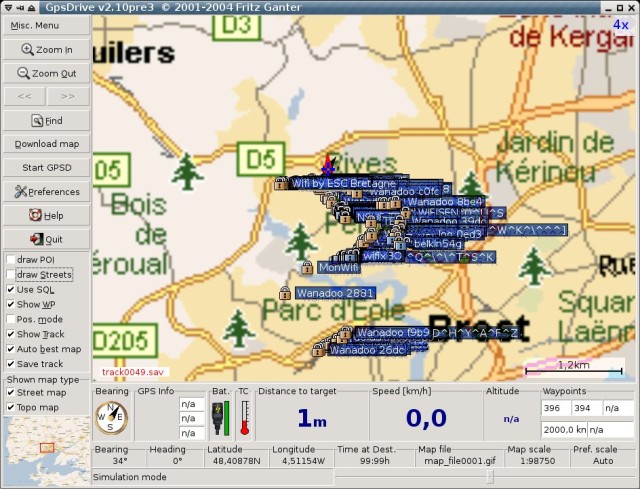 Ok, now you have a lot of points in your database.. And GPSDrive have a little troubles to display them.. After a little time, i decided to install Google Earth, and look at the way to add new points on the map..
This, is quite simple, all i need to do is to extract data form the SQL, and build a xml file that contain all the points. I decided to write gpsdriveToGoogleEarth.py. This quick and dirty script will generate a file 'ap.kml'. Now simply launch Google Earth and open this file. You will see something like this: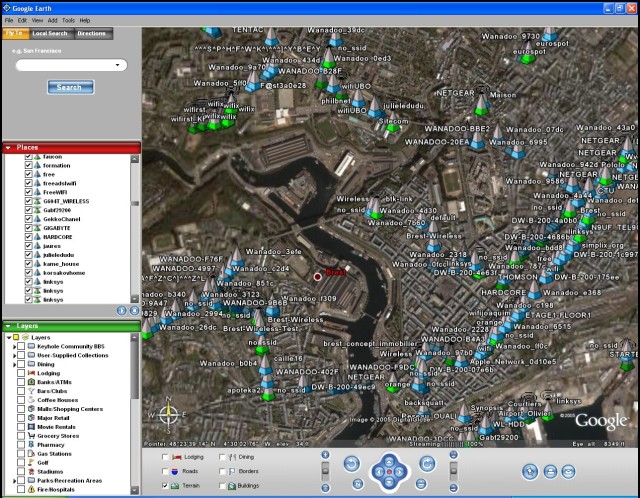 The main issue for me, is that Google Earth doesn't support Linux right now so I need to dual-boot.. But this provide a easy way to build the card without too much pain. And i can share the Google Earth file others guys simply.
I do this only for the fun, so don't try to hack wireless access point using this howto, this is not the goal !
– Enjoy
Related Posts