I bought a couple of months ago a little AVR Dragon card. My initial plan was to use it for debuging programs with the embbeded JTAG. But I run into several issue with that, mainly because the lack of doc on this topic. So, here we are ;)
The AVR Dragon is nice because you can use it as a small developpement device without any other requirement: Simply drop the needed ATMega on the board, some little wrapping for : Jtag + power supply.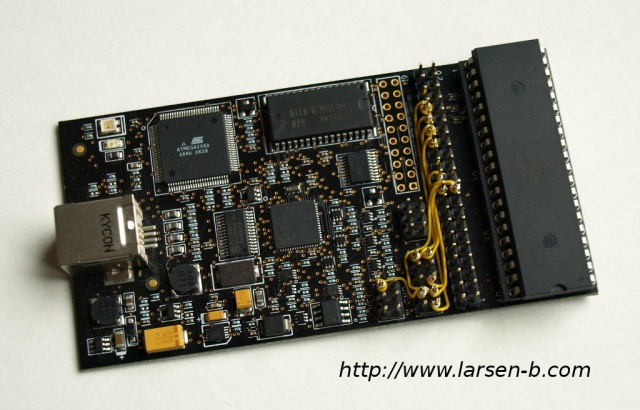 As you can see, this is compact and nothing else is needed. The power supply come from the USB port, and I soldered a DIP on the board.. and that's it.
I use the Jtag connector, so now I can use a real debugger instead of playing with the UART. Simply put a breakpoint, and enjoy :) By this way, I figure out that most of the time I simply push some stuff in arrays, and inspect them with debugger. This is really efficient. For example, last week I need to fix a timing issue with a IR sensor, simply wrap the little board, and push all interrupts in a array with the related timing. Of course, this can be done with a serial connection too, but it will take more time, and even worst if you encounter a bug, you will have to find where is it (the UART printf, or the code itself) ..
So, how to use this with a Linux OS ?
First you need to use AVaRICE to program the ATMega with a command like this :
avarice -g -j usb --erase --program --file main.hex :4242
Here the result:
AVaRICE flash the hex file to the ATMega, and wait for a GDB connection on port 4242. GDB is fine, but not really visual ;)
Let's take a look at DDD
To use DDD with avr-gdb (the gdb for AVR), you need to edit a config file, for example gdb.conf and put this in :
file main.out
target remote localhost:4242
And the final command, just launch DDD like this :
ddd --debugger "avr-gdb -x gdb.conf"
Next step: Simply place some breakpoint, and the press "Cont" inue button in DDD. Et voilà :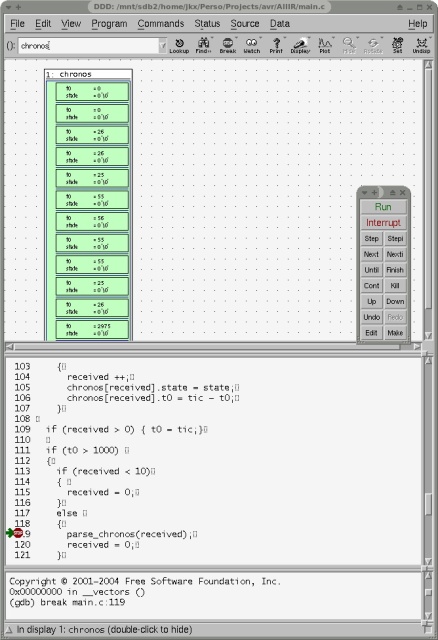 I hope this little tuto will help people looking for a nice AVR debuger for the AVR on Linux (or any OSS system). The AVR Dragon is definitively a must have for low budget user in AVR scene.
Enjoy bug ? :)
Related Posts