After searching a while on the net to find a 802.11g card supported by Linux. I have found that only the cards based on Atheros Chipset are support by the http://madwifi.sourceforge.net driver. After a little of investigation I discover that this driver seems to work quite nicely ( I managed to build it and so on ..). So I decided to buy this kind of card.
So I went to my webstore ( not a really good one ..) and decide to purchase a D-Link or a Linksys, Atheros based card. And this is impossible cause most of them aren't sell in France. So I have bought a Linksys WMP54G ( at the time i do this I haven't noticed that it isn't supported by madwifi ..) as Linksys seem to support Linux ( I found a big GPL center on their website ).
After 2 weeks ( my f**king webstore is sloww ), I received it. Fine .. give it a try on this nice old Asus P2B which I use as gateway.. hum .. Bios locked .. grr .So I tried it out on another host w/ windows and works fine. Using windows only for bridging wifi is a bit expensive for me. So I went to #linux on freenode and they all say the same. "Linksys doesn't release the code".
This morning ( after a long night chatting on irc ) I decide to write a mail to support@linksys.com. And guess why: "We are working on the driver for linux. But it isn't ready yet .." Hum this sound really strange isn't it ? cause Broadcom use the same chipset on the AP selled by Linksys and they use Linux IN !! ( you can check out the GPL center on linksys website you will found the firmwares )
So I decided to post a mail to friends at finix.eu.org which i have talk about Wifi before. And tonight i receive a email from David ( many thanks guy !! ) saying " use linuxant driver". So i take a look at http://www.linuxant.com/drivers_bcmwl/ . I found that the WMP54G is supported. After a registration form and a "Free trial" key. I dpkg -i the driver loader. point my webbrowser to http://localhost:18020/ upload the right .sys and it works !!!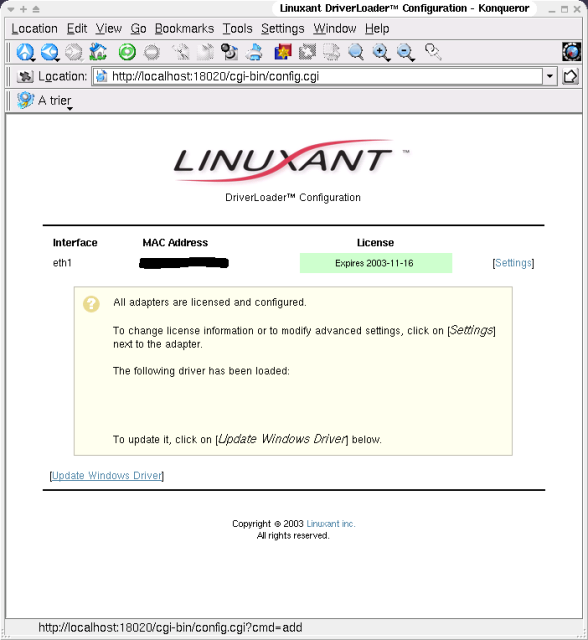 PCI: Found IRQ 11 for device 00:0b.0
PCI: Sharing IRQ 11 with 00:11.0
eth1: New link status: Disconnected (0002)
eth1: MAC address 00:0C:41:13:90:8C
eth1: Broadcom Wireless LAN Adapter at 00:0b.0, mem:0xCFFF8000 to 0xCFFFA000 irq:11 ready

I just added a little iwconfig / ifconfig / iptables script and now I can post on my blog from my notebook ( which have a cisco aironet ) thought my new wifi gateway :)

/sbin/iwconfig eth1 mode ad-hoc
/sbin/iwconfig eth1 essid ametsa

/sbin/ifconfig eth1 192.168.2.1
/sbin/route add 192.168.2.0 eth1

/sbin/iptables -F;
/sbin/iptables -t nat -F;
/sbin/iptables -t nat -A POSTROUTING -o eth0 -j MASQUERADE
echo 1 > /proc/sys/net/ipv4/ip_forward

Many thanks to Linuxant and David for pointing it .
Please look on other posts.. There is other posts about this card
Related Posts