The fight just began to be serious. I mean everybody, is looking at this with aingst or fear. Ian just post today, that he doesn't really enjoy Kerry, because it isn't perfect for the country.
Here, I don't really understand all stuffs. Every day there is a flash on TV about US, and something is clear. For me right now, US people don't come from this planet, human ? really ?
I know this will be a big FUD, again .. but let me explain:
First we saw a report about a country where every man need to bring a gun. (I mean, in the law, they write: 'Men should have a gun').
Yesterday, the report is about TV ads for election. I saw ads, that's say Kerry smoke drugs while army .. or others worst. I 'm wondering where they left their dignity ? This really piss me off, I fully understand why young people don't vote. This looks like a election at SouthPark's school, with wrong arguments, with wrong weapons. In France, we don't have this kind of shit on TV, and that's fine. TV isn't politic, I mean, they don't support one or other candidate. Fox and CBS, please keep OUT!
And today, the current report is: Bush and Religion. And this is the worst.. frigthening … I don't know how to write this, here: Some people on my TV set (americans) say that the US governement doesn't try to end the war between Israel and Palestin, because the 'old testament' say that God will be back on earth on the Israel country..
So, yes I understand why some people want to vote for Bush, and others for Kerry. But I really think they both loose, I don't know the words in english but this country looks (i don't mean is.. just look) like a sick boat (ala française). So vote for the 'not so worst' ? Sade news today.
I want to finish this post with a picture of Mickael Moore, because I'm a big fan of this guy. Yes I know, he is an extremist, but I really think this kind of people is usefull for a democratie, because he try too explain politics for a large number of people, and even if his vision isn't always the truth. 20 years ago, we have a lot of humorist like him in France, but most of them die…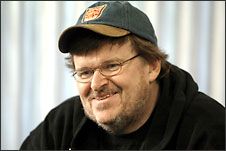 Before you send me some chirugical weapons, please keep in mind, that my vision is false mainly because I live in France. I only see pictures that french TV want me to see. And my english isn't good enought to fully explain myself.
Update: While reading this again, I really don't want to offense anybody. This post isn't about people but more general.
Related Posts