I still have the Ipaq at home. and i have done several things w/. The only trouble is that the ROM is quite full so I can't install new stuff on .
As you can see here. The ipaq runs Xipaq and a rxvt.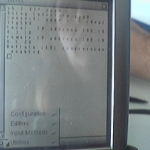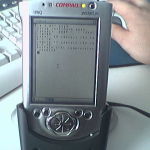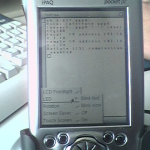 I pretty like the sshd running on iPaq. It really make it damn kool.
cat /proc/cpuinfo
Processor       : Intel StrongARM-1110 rev 6 (v4l)
BogoMIPS        : 137.21
Features        : swp half 26bit fastmult

Hardware        : Compaq iPAQ H3600
Revision        : 0000
Serial          : 0000000000000000
sh-2.03# ps aux
USER       PID %CPU %MEM   VSZ  RSS TTY      STAT START   TIME COMMAND
root         1  0.0  1.8  1288  556 ?        S    Jan13   0:04 init [2]
root         2  0.0  0.0     0    0 ?        SW   Jan13   0:00 [keventd]
root         3  0.0  0.0     0    0 ?        SWN  Jan13   0:00 [ksoftirqd_CPU0]
root         4  0.0  0.0     0    0 ?        SW   Jan13   0:00 [kswapd]
root         5  0.0  0.0     0    0 ?        SW   Jan13   0:00 [bdflush]
root         6  0.0  0.0     0    0 ?        SW   Jan13   0:00 [kupdated]
root         7  0.0  0.0     0    0 ?        SW   Jan13   0:00 [mtdblockd]
root         9  0.0  0.0     0    0 ?        SWN  Jan13   0:00 [jffs2_gcd_mtd1]
root        84  0.0  2.2  1400  692 ?        S    Jan13   0:00 /sbin/cardmgr
root        91  0.0  3.6  2900 1124 ?        S    Jan13   0:00 /usr/sbin/sshd
root        99  0.0  5.3  3088 1644 ?        S    Jan13   0:03 Xipaq -screen 240x320@270 -dpi 100
root       116  0.0  3.3  2296 1044 ?        S    Jan13   0:00 x-window-manager
root       121  0.0  7.5  5192 2336 ?        S    Jan13   0:01 x-menu-manager
root       123  0.0  6.5  6000 2016 ?        S    Jan13   0:01 xstroke
root       125  0.0  1.5  1268  480 ttySA0   S    Jan13   0:00 /sbin/getty -L ttySA0 115200 vt100
root       126  0.0  6.5  6000 2016 ?        S    Jan13   0:00 xstroke
root       127  0.0  6.5  6000 2016 ?        S    Jan13   0:00 xstroke
root       143  0.0  4.8  2968 1496 ?        S    00:30   0:00 rxvt-aa -fn mono-7:minspace=true
root       144  0.0  4.1  2308 1276 pts/0    S    00:30   0:00 sh
root       145  0.0  2.9  1824  896 pts/0    S    00:31   0:00 pppd
root       157  0.0  5.2  3300 1612 ?        S    00:31   0:01 /usr/sbin/sshd
root       159  0.0  4.4  2336 1360 pts/1    S    00:31   0:00 -sh
root       186  0.0  2.8  2652  880 pts/1    R    01:01   0:00 ps aux
Related Posts